Get Started • "Wanted Articles" • Create Article • Templates • Admins The
Valerian and the City of a Thousand Planets
Wiki is a collaborative encyclopedia designed to cover everything there is to know about the upcoming film and the comic series it was based on. This is a fan created Wikia, so anyone is free to edit or contribute content.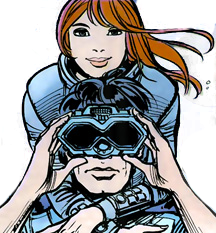 We currently have 37 articles and 105 imagesIf you're new to Wikia, above are some links to help you get started.
Laureline
is one of the main characters in the
Error when fetching query "name==Valerian and Laureline(Anime)". The server said: (undefined) undefined - undefined
anime. Laureline is sexy, playful, mischievous but also thoughtful and courageous, she can take responsibility. She does not hesitate to engage in the battle to defend the weak. She has a real fiery temperament and everybody loves her.

Loading RSS data...
Ad blocker interference detected!
Wikia is a free-to-use site that makes money from advertising. We have a modified experience for viewers using ad blockers

Wikia is not accessible if you've made further modifications. Remove the custom ad blocker rule(s) and the page will load as expected.